I just realized that it has been since last September that I posted an update to the blog.  Shame on me!!!
There has been a lot of activity since then.  The most important task has been the working on updating our models for 2016/2017 delivery.  Steve Seaton and I have been phoning, emailing, and/or visiting almost daily to accomplish this.  To see our progress, visit the Trawler Fleet section of the website where you will see new renderings (styling) for the NW 48 and NW 52.  We have found a very talented naval architect in China who can not only do pretty renderings, he can do some of our engineering.  Jason Lau is his name.  Jason actually was a classmate of Li Du (Kay), who is the wife of our good friend and business partner (in another business), James Zhao.  Kay is also a naval architect but she does not practice her craft much any more.  Anyway, we are glad to have found Jason.
Also under the Trawler Fleet is the updated Northwest 58.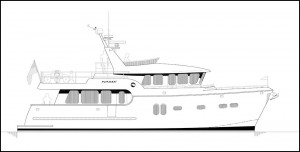 We are quite excited about the new "look" of this 3 stateroom boat.  The expanded flybridge area also enhances the ability for her owners to entertain aloft or just have the whole gang up there while underway.
In the coming weeks, look for two new designs to be posted.  The Northwest 70 and Northwest 83.  Both are semi-displacement hull forms, designed to cruise in the 10 – 14 knot range with top speeds of about 20 knots.
I had a very busy fall/winter travel schedule.  In September, James came to visit from China.  Then Jan, James, and I went to Tampa, FL for IBEX (International Boat Builders Exposition).  We displayed some of our product offerings from our sister company, Genuine Marine. It was great to visit with other boat builders and catch up on the industry news.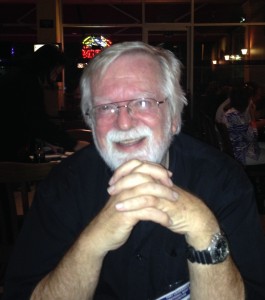 In October, I attended the Fort Lauderdale International Boat Show (FLIBS).  I got to hang out with Steve Seaton for several days and check out the megayacht offerings there.  Steve is always a joy to be around and I always learn new things from him.
Then in November, I traveled to Amsterdam with James and Kay to attend and display at METS (Marine Equipment Trade Show).  METS is the largest marine related trade show in the world.  You cannot imagine the size and number of suppliers that attend/display there.  I saw quality equipment being manufactured in Europe, Asia, and Australia/New Zealand that you never see offered in the US.  Probably a lot of it is not available due to the differences in electrical requirements for US vs other parts of the world.  Anyway, it was a great way to visit and learn what others are building.  I found that there is general optimism that things should turn around soon but there still has not been a flood of new orders.
January found me traveling to China for 1o days.  This time I visited numerous factories in Shanghai, Qingdao, Weihai, and Wuxi in the North and then to Zhuhai in Southern China.  It was great to see the high quality marine products being manufactured…….well, mostly.  There were a couple of places we visited that are not quite ready for prime time but overall, I was quite impressed.
Back home in late September, just in time to attend/work the Seattle Boat Show.  This year's crowds were bigger than last year and we had quite a bit of interest in the new NW48 and NW52.
Currently I am working on the NW70 and will post something soon about it.  (sneak preview of the profile)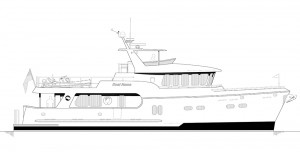 All for now………………..